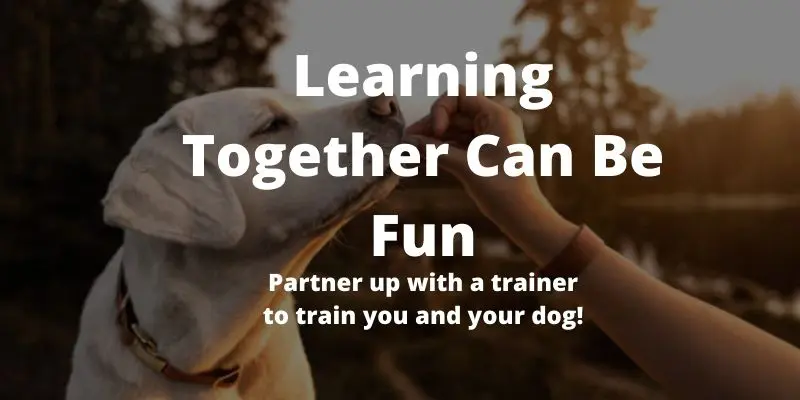 Dog Training in Montgomery County, MD, and Surrounding Areas
Private lessons give you the opportunity to be involved in your dog's training. You and a professional dog trainer work together to train your dog. This is a great way for you and your dog to learn and grow together. In addition to obedience training we improve your relationship with your dog. This will create a bond that will last a lifetime!
Training is once a week in your home. Each training session is an hour. After the training session, your trainer will provide a session recap and homework for the week ahead.
This 6-week course is a great starting point for puppies ages 6 months and up as well as older dogs who need to learn the basics. During the 6 weeks your dog will learn the basic commands. We will also address the common issues you may be facing as a dog parent and help provide solutions so you both can enjoy each and every day to the fullest!
Your Dog Will Learn:
Sit With Stay
Down With Stay
Place
Come When Called
Loose Leash Walking
Heel
During this time we can work on any other pesky behaviors. 
This 6-week course is designed for those who have already completed Obedience 101, and want to move forward to increase their dogs skills. We take what your dog has already knows and increase their performance around distractions. Our goal is to have your dog be able to perform all behaviors off leash with confidence and reliability! 
New Behaviors Your Dog Will Learn:
Behaviors We Improve:
Longer stay when in sit, down, and place
Come when called 
This is an 8-week comprehensive package that includes both Obedience 101 and Advanced Obedience. It starts off with teaching your dog a solid obedience foundation to build a bond of trust and understanding between your and your dog. During this time, we make sure your dog is able to perform in increasingly difficult and distracting environments. With this package, we can provide you with all the tools you and your dog need to enjoy life to the fullest. Our goal for you and your dog is to have a solid foundation for basic commands in any environment.
Your Dog Will Learn:
Sit With Stay

Down With Stay

Place

Come When Called

Loose Leash Walking

Heel On and Off Leash

During this time we can work on any other pesky behaviors. 
Additional Training Option
The Three for Three package is designed to teach your dog three behaviors of your choice over the course of three weeks. This is a great package for those who have a dog who has a good foundation, but want to learn a bit more or improve on those already learned behaviors.